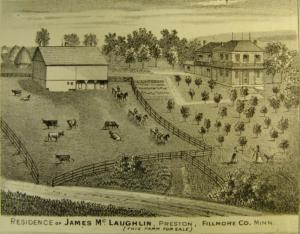 "Farmers, especially of New England, if they could but once see our lands, would never think of settling on the bilious bottoms and the enervating prairies south of us. What is fertility, what is wealth, without vigorous health and activity of body and mind? These are considerations that will weigh more in the future with the immigrants, than they hitherto have: a clear, bracing air, an invigorating winter to give elasticity to the system—and water as pure and soft as the dews of heaven, gushing from hill and valley."
James M. Goodhue, editor of the Minnesota Pioneer, 1849
When Minnesota Territory was created in 1849, it was home to about 5,000 settlers and approximately 31,000 Indian people--all spread over an area that was about two and half times the size of what became, in 1858, the state of Minnesota.  The settlers were predominantly white, and came either from Europe, or from British North America (Canada), or from other parts of the United States.  European-American immigrants were drawn to the region by the fur trade, farming, and lumbering.
Just five years later, the non-Indian population of Minnesota Territory was more than 30,000, and just three years later, it topped 150,000. Lumber, hides, and furs were the primary exports, with sawmills and river commerce dominating the urban areas. By 1858, almost all Indian lands in Minnesota had been ceded or set aside for future sale.   
In 1862, the Homestead Act, signed by President Abraham Lincoln, allowed settlers easier access to land by offering free 160-acre segments to settlers with the requirement that they show improvement to their acreage after five years.  
Western gold rushes, the Civil War (1861-65), and the completion of the transcontinental railroad system (1869) dramatically propelled white expansion westward.  With the General Allotment Act of 1887, which gave small parcels of tribally held lands to individual Indians while opening up reservations for white settlement, the land held by Indian people continued to dwindle.
Minnesota Territory, 1850
Area in square miles: 166,000
Non-Indian population: 6,077
Indian population (est): 31,700
State of Minnesota, 1860
Area in square miles: 84,068
Non-Indian population: 169,654
Indian population (est): 19,600 
Bibliography:
Andreas, A.T. An illustrated historical atlas of the State of Minnesota. Lakeside Building, Chicago: Chas. Shober & Co. Proprietors of Chicago Lith. Co. 1874
Gilman, Rhoda R., "Territorial Imperative: How Minnesota Became the 32nd state." Minnesota History 56 (4),1998, pp. 154-71.
Wingerd, Mary Lethert. North Country: The Making of Minnesota. Minneapolis: University of Minnesota Press, 2010.
Resources for Further Research: