Now on view at the Minnesota History Center
When you visit the "U.S.-Dakota War of 1862" exhibit at the History Center, you'll examine the evidence, hear heart-wrenching stories and learn about the broken treaties and promises that led to this disastrous chapter in Minnesota history.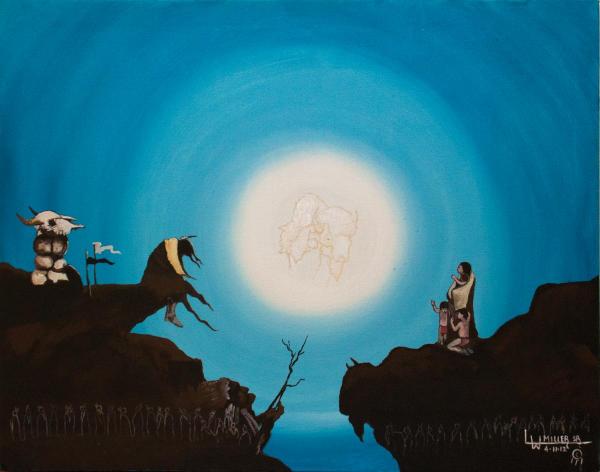 "A Meeting of the Grandfathers," by Lyle Miller. Painted for the Minnesota History Center's exhibit, "The U.S.-Dakota War of 1862."
The war ended with hundreds dead, the Dakota people exiled from their homeland and the largest mass execution in U.S. history: the hangings of 38 Dakota men in Mankato on Dec. 26, 1862.
2012 marks 150 years since the U.S.-Dakota War. It was waged for six weeks in southern Minnesota over the late summer of 1862, but the war's causes began decades earlier and the profound loss and consequences of the war are still felt today.
There are many, often conflicting, interpretations of events relating to the war. "The U.S.-Dakota War of 1862" exhibit will include multiple viewpoints as well as historical and contemporary voices. Visitors will be encouraged to make up their own minds about what happened and why, to discuss what they are seeing and learning, and to leave comments. 
Descendants of people involved in the war have taken an active role in shaping the exhibit. Exhibits staff members have met with Dakota people from throughout Minnesota, the Upper Midwest and Canada and with settler descendants from the Minnesota River Valley region to solicit research advice and comb through original documents, letters, diaries, artifacts and other historical sources to assemble a narrative of what happened. These meetings with descendants are part of a broader initiative called a "truth recovery" project. 
The exhibit runs through Sept. 8, 2013.
Admission 
The exhibit is included with regular History Center admission of $11 for adults, $9 for seniors and college students, $6 for children ages 6 to 17; free for children age 5 and under and Minnesota Historical Society members. Free for all ages Tuesday evenings from 5 to 8 p.m. Call for special group tour rates, 651-259-3003.
Hours and Information
History Center address, hours and information
The exhibit is open during regular History Center hours, Tuesdays, 10 a.m. to 8 p.m. (admission is free from 5 to 8 p.m.); Wednesdays through Saturdays, 10 a.m. to 5 p.m.; and Sundays, noon to 5 p.m.
"The U.S.-Dakota War of 1862" exhibit is made possible by the Arts and Cultural Heritage Fund of the Legacy Amendment through the vote of Minnesotans on Nov. 4, 2008.