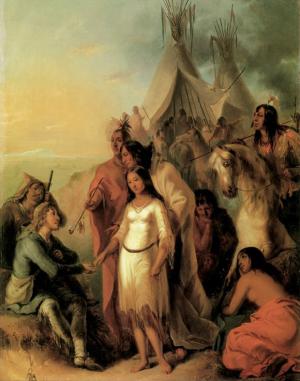 "Trade was a social as well as an economic function that could work only after the proper kinship and alliance pledges had been established."
Gary Clayton Anderson, Kinsmen of Another Kind, 1984.
In the centuries before Minnesota became a state, relations between the Dakota and Europeans were integral to the success of the fur trade. Indian women were especially important to the fur trade. They provided many of the resources that kept the trade going, served as translators, and provided an important link between the traders and Indian communities through intermarriage. These marriages formed bonds that helped traders in their business, and made it more likely that the traders would continue providing goods to the communities their wives belonged to. Therefore, many European fur traders and Dakota people established business and personal relationships that were sustained over generations. As the fur trade dwindled, some--though not all--traders maintained relations with their Dakota friends and family members. Often, European understanding of the importance of these kinships bonds were not the same as the Dakota's.
For newcomers to Minnesota during the land-rush days of the 1850s and 1860s, there was little incentive to form relationships with the Dakota. Some meaningful cross-cultural friendships developed. But neither side--not the settlers seeking land on which to make a new start, nor the Dakota watching their land base shrink--had much reason to find common ground. 
Bibliography:
Anderson, Gary Clayton. Kinsmen of Another Kind: Dakota-White Relations in the Upper Mississippi Valley, 1650-1862. St. Paul: Minnesota Historical Society Press, 1997.
Deloria, Ella. The Dakota Way of Life. Sioux Falls, SD: Mariah Press, 2007.
Kenney, Dave. Northern Lights: The Stories of Minnesota's Past. St. Paul: Minnesota Historical Society Press, 2003.
Knudson, Nicolette, Snow, Jody, Canku, Clifford. Tokaheya Dakota Iapi Kin, Beginning Dakota: 24 Language and Grammar Lessons with Glossaries. St. Paul: Minnesota Historical Society Press, 2011.
Resources for Further Research:
Primary
Deloria, Ella Cara, and Vine Deloria. Kinship's Role in Dakota Life. Speaking of Indians. Lincoln: University of Nebraska Press, 1998, pp. 24-74.
Secondary
Anderson, Gary Clayton. Kinsmen of Another Kind: Dakota-White Relations in the Upper Mississippi Valley, 1650-1862. St. Paul: Minnesota Historical Society Press, 1997