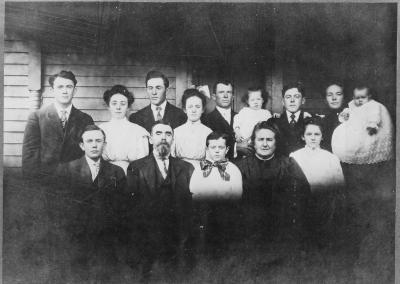 "On August 19, pleas for assistance in fighting the Dakota War reached Le Sueur County. About 150 settlers responded. Calling themselves the Le Sueur Tigers, they formed two companies and marched to New Ulm."
William Luskey, an Irish immigrant, joined the Tigers along with several of his close neighbors. On August 23, during the second battle of New Ulm, six Tigers were killed, including William Luskey and his neighbors Matthew Ahern and William Maloney. The three men left behind their wives and a total of 13 young children.
With the deaths of the Tigers, it became extremely hard for the surviving young widows and children to physically carry on. The tasks the men performed on a daily basis on their farms were now assigned to their wives and young children.
The oldest of the surviving children was eight years old. The children took a leading role in the months and years following the war. The hard physical labor they had once done on occasion by helping out their parents now became a daily way of life.
They all grew into adults, eventually raising their own children, but the thought of their younger days was never far from their minds and hearts.
I am proud to be one of their descendants.
George Luskey, 2012