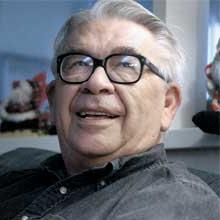 "Before any final solution to American history can occur, a reconciliation must be effected between the spiritual owner of the land – American Indians – and the political owner of the land – American Whites. Guilt and accusations cannot continue to revolve in a vacuum without some effort at reaching a solution."
Vine Deloria Jr., from God Is Red: A Native View of Religion
Vine Victor Deloria, Jr. (1933-2005) was born in Martin, South Dakota. He was the grandson of Tipi Sapa (Black Lodge), also known as Rev. Philip Joseph Deloria, an Episcopal priest and a leader of the Yankton band of the Dakota Nation. Vine Deloria was an author, teacher, theologian, historian, and activist. His book Custer Died for Your Sins: An Indian Manifesto (1969) helped bring national attention to Native American issues. As  professor of political science at the University of Arizona from 1978 to 1990, he established the country's first master's degree program in American Indian Studies.
Resources for Further Research: