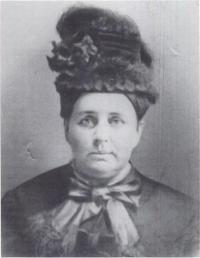 Sarah Brown was born in Rhode Island in 1829 and came to Minnesota in 1854 where she met her husband Dr. John L. Wakefield whom she married in 1856 and had two children. Dr. Wakefield was a land speculator, legislator, and had a medical practice in Shakopee, Minnesota.
The Wakefields moved to Blue Earth City and were among the earliest settlers there. Dr. Wakefield was appointed physician at Yellow Medicine (Upper Sioux Agency), where they were when the U.S.-Dakota War began. Upon hearing about the war, Mrs. Wakefield and her children fled and were taken prisoner on their way to Fort Ridgely. A Dakota man named Chaska (Wechankwastadonpe) and his family took them under their protection throughout the six weeks of battle. They were safely returned at Camp Release after the war.  She urged Chaska and his family not to flee, reassuring them that they would be treated fairly.  About Chaska's protection she said, 'If it had not been for Chaska my bones would now be bleaching on the prairie, and my children with Little Crow."  
Chaska was among those whose sentence was commuted during the trials after the war, largely in part due to the testimony of Wakefield. She was harangued by the media for defending Chaska, and rumors flew about their relationship. At one point, General Sibley, who was involved with the trials and convictions after the war, referred to Chaska as Wakefield's lover. Nevertheless, Chaska ended up being among the 38 hanged in Mankato. There is dispute over whether this was accidental or purposeful. Stephen Riggs asserted that the error occured when Chaska's name was called and he stood up instead of the intended man, Chaskadon. Wakefield disputed this point and said, "I will never believe that all in authority at Mankato had forgotten what Chaska was condemned for, and I am sure, in my own mind, it was done intentionally." 
After her husband's death in 1874, Wakefield moved to St. Paul, Minnesota, where she died in 1899. 
Bibliography:
Dakota Conflict of 1862 Manuscript Collections. Minnesota Historical Society, St. Paul. 
Zabelle Derounian-Stodola, Kathryn. "Many persons say I am a 'Mono Maniac'": Three Letters from Dakota Conflict Captive Sarah F. Wakefield to Missionary Stephen R. Riggs. Prospects, 29, pp 1-24. 
Resources for Further Research:
Primary
Wakefield, Sarah F., and June Namias. Six Weeks in the Sioux Tepees: A Narrative of Indian Captivity. Norman: University of Oklahoma, 1997.