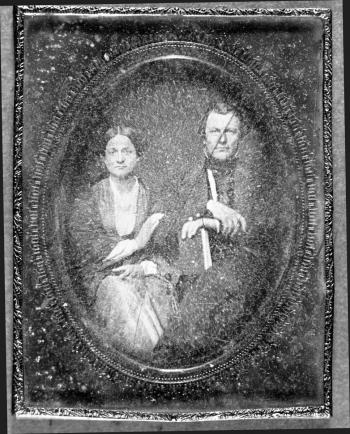 In 1853, William B. Dodd claimed 150 acres near the Minnesota River, where he founded the town of Rock Bend (now St. Peter). On August 23, 1862, Dodd was killed in battle at New Ulm. His wife, Harriet, kept a diary that captures the uncertainty and mayhem of the first week of the war.
1862 Aug. 19. W.B. Dodd left his home before daylight to prepare to march to defence [sic] of New Ulm. 
20. Armed men constantly passing through St. Peter.
22. Burning at Norwegian settlement. Great panic among the citizens of St. Peter all rushing into the warehouse.
25th Monday. Heard the rumor that he was killed but did not believe it.
26 Tuesday. The Kiniff boy came and told me he helped to bury him!
27 on Wednesday Dr. Daniels came and brought me his last words. Last--oh shall I never never more hear his voice?
Two weeks after her husband had been killed, Harriet Dodd recorded her son Johnny's reaction to the news of continued violence:
Sept. 11, Thursday. To day Johnny is complaning, how my heart yearns toward this "father's child" I wish I could have dagguerotyped his countenance and attitude as he said yesterday 'Mamma, I'm not afraid, I'll stay by you. If Indian come, I'll chop his head right off.' and illustrating his words, he chopped one tiny finger on the other hand with a most decided movement. Tonight he is a little feverish, and says, 'Do the Indians hurt you? They hurt papa and I must shoot 'em I'm not afraid.'