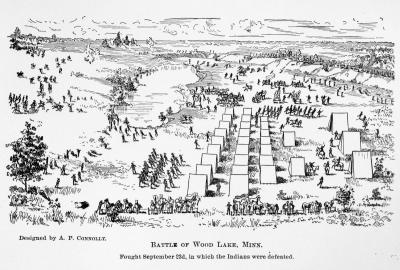 On the morning of September 23, Henry Sibley and his forces were camped near the shore of Lone Tree Lake. Before dawn, Dakota soldiers had hidden in the grass waiting to ambush Sibley's forces as they broke camp and marched down the road. But before they could carry out this plan, several foraging soldiers from the Third Minnesota began crossing the prairie in the direction of the Dakota. When the U.S. soldiers were nearly upon them, the Dakota opened fire and the battle began.
The veterans of the Third Minnesota and Sibley's militia forces eventually drove the Dakota from the field. Over the course of this battle seven white soldiers were killed and 33 were wounded. Fifteen Dakota, including chiefs Makato and Mazamani, were killed during or after this battle, which effectively ended organized Dakota war efforts in Minnesota.
Bibliography:
Anderson, Gary Clayton, Woolworth, Alan R. Through Dakota Eyes: Narrative Accounts of the Minnesota Indian War of 1862. St. Paul, MN: Minnesota Historical Society Press, 1988.
Carley, Kenneth. The Dakota War of 1862: Minnesota's Other Civil War. St. Paul, MN: Minnesota Historical Society Press, 1976.
Dahlin, Curtis A. The Dakota Uprising. Edina, MN: Beaver's Pond Press, 2009.
Resources for Further Research: