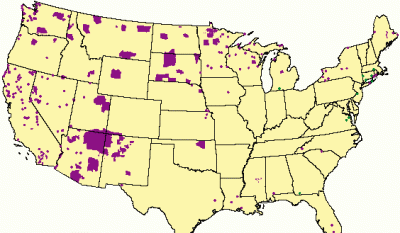 "This is not where my people were from."
Pam Halverson, Lower Sioux Indian Community, 2010
A reservation is an area of land managed by a Native American tribe under the U.S. Bureau of Indian Affairs. There are approximately 310 Indian reservations in the United States although there are more than 550 federally recognized tribes. This is because some tribes have more than one reservation, some share reservations, while others have none, often due to a lack of federal recognition.  Because of past land allotments (for example, under the Dawes Act of 1887) some reservations are fragmented, with pieces of tribal, individual, and privately held land, some of it owned by non-Indians. The collective geographical area of all reservations is 55.7 million acres, or about 2.3% of the area of the United States. 
The name "reservation" comes from the belief that tribes were independent sovereigns at the time the U.S. Constitution was ratified. Early treaties for land also designated parcels which the tribes, as sovereigns--a term used to describe the concept of Indian nations' right to govern themselves-- "reserved" for themselves. Those parcels came to be called "reservations." The term remained in use even after the federal government began to forcibly relocate tribes.  
Today, tribes possess tribal sovereignty, even though it is limited by federal and state/local law. Laws on tribal lands vary from the surrounding area. The tribal council, not the local or federal government, generally has jurisdiction over reservations. Different reservations have different systems of government.