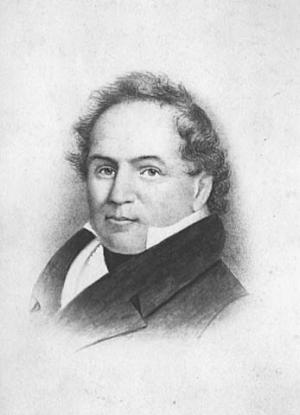 Josiah R. Snelling was born in Boston, Massachusetts in 1782.  In 1820, Snelling arrived in the area that would become Minnesota Territory in order to take over the project to build "Fort St. Anthony," the army installation at the confluence of the Minnesota and Mississippi Rivers.  Fifteen years earlier, the U.S. Army had ordered Lt. Zebulon Pike to explore the Mississippi River and select potential sites for future military posts. When he arrived at the junction of the two great rivers, Pike made a treaty with several local Dakota representatives and acquired land that would, he promised, be the site of a U.S. trading post.  That post was never constructed, but following the War of 1812 the U.S. government sought to firmly establish its presence and stamp out any existing British influence in the Northwest Territory by building a fort at the site. The first troops arrived in 1819 under the command of Lt. Col. Henry Leavenworth and began construction on the stone fort the following year.
By 1825, under Col. Snelling's leadership, the fort was completed, and was renamed Fort Snelling by the U.S. War Department in honor of his efforts.
Bibliography:
 
Hall, Steve. Colossus of the Wilderness. St. Paul, MN: Minnesota Historical Society Press, 1987.
 
Jones, Evan. Citadel in the Wilderness: The Story of Fort Snelling and the Northwest Frontier. Minneapolis: University of Minnesota Press, 1966.
 
Prucha, Frances Paul. Broadax and Bayonet: The Role of the United States Army in the Development of the Northwest, 1815-1860. Lincoln, NE: University of Nebraska Press, 1953.
 
Wingerd, Mary Lethert. North Country: The Making of Minnesota. Minneapolis: University of Minnesota Press, 2010.
Resources for Further Research: